Salvatoriani Laici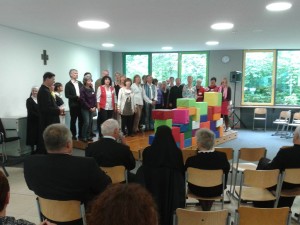 I Laici Salvatoriani condividono la loro vocazione in equità e complementarietà con gli altri rami della Famiglia Salvatoriana.

I Laici Salvatoriani sono uomini e donne, sposati o celibi, che pongono Dio al centro della loro esistenza; persone che hanno la capacità di guidare, trasformando il loro ambiente con il loro modo di vita, difensori della vita, dei diritti umani e di tutto ciò che è stato creato da Dio; persone che con la loro vita testimoniano il Regno di Dio e che trovano la forza nella comunione spirituale con gli altri Salvatoriani.

The Lay Salvatorians share their vocation in equality and complementarity with the other branches of the Salvatorian Family.

The Lay Salvatorians are men and women, married or single, who place God at the center of their existence; People who have the ability to lead, transforming their environment and their way of life, defenders of life, human rights and all that has been created by God; people who by their lives bear witness to the Kingdom of God, and find strength in spiritual communion with other Salvatorians.

La Formazione dei Laici Salvatoriani

Nella formazione dei Laici Salvatoriani, sono rilevanti le seguenti caratteristiche:

La capacità di evangelizzare il proprio ambiente e luogo di lavoro.

Un'opzione prefenziale per i poveri.

La capacità di accettare la vita, gli ideali e lo spirito di Padre Jordan.

La capacità di considerarsi membro della Chiesa e di avere un'attitudine universale, ecumenica, missionaria e profetica.

La capacità di vivere, celebrare ed approfondire la comprensione dell'Eucaristia e dei Sacramenti.

La partecipazione attiva nel servizio apostolico nella Chiesa e nella società civile.

The Formation of the Lay Salvatorian

In the formation of the Lay Salvatorian, the following features are relevant:

The ability to evangelize their own environment and workplace

Prefenziale option for the poor

The ability to accept life, ideals and spirit of Father Jordan

The ability to be considered a member of the Church and have an attitude of universal, ecumenical, missionary and prophetic

The ability to live, celebrate and deepen understanding of the Eucharist and the Sacraments

Active participation in apostolic ministry in the Church and in civil society.